Getting your first payment as a reward for your digital advertising services online is really exciting. Opportunities are everywhere and many people are interested in making more money using the internet.
Affiliate marketing is a really good way to increase your income besides your main job. As affiliates said: "You can even make money while you're asleep".
Let's dive deeper into how affiliate marketing works and how to get started.  So, here is a beginner's guide broken into 5 steps to start your affiliate business today.
What Is Affiliate Marketing?
Affiliate marketing is the process in which companies pay a commission to publishers whenever they bring an action such as new leads, sales….etc to a brand or a business.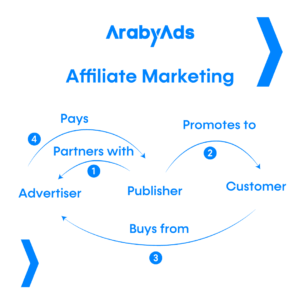 Publishers (AKA affiliates) are the online content producers who have digital assets like YouTube channels, blogs, websites, mobile apps or who use social media advertising. They produce relevant and engaging content in order to reach customers.
Advertisers are brands with online outlets that have products/services they want to promote to a large audience.
In only 5 steps, you can become an affiliate as follows:
Pick Up a Niche
Step #1: Ask yourself what is a topic you're already passionate about? And start doing some research online on how to produce content revolving around it, like videos, blogs, tips and tricks and more. Choose a category or niche like fashion, education, technology and that will help you focus on producing content you're in love with, and it'll also make it easier to create targeted marketing campaigns.
Step #2: Is there a demand for products in this niche? How many people buy these products you will talk about in your content and is there a marketplace that sells the products you have been promoting? That will help you target a specific market with a specific target audience.
Build Assets and Create Content
Once you pick up a profitable niche or category and start to produce content you are really excited about it, you'll be ready to build your assets like a website or blog.
Step #1: Build your own website, social page, YouTube channel, or mobile app and start to attract an audience by producing relevant and useful content continuously.
Step #2: Start to produce a variety of content that solves a problem for your audience, gives them a full comparison, or product information, and reviews….etc. 
Step #3: Promote your content via social media, on high-traffic blogs. Use basic SEO techniques to increase search engine traffic to your site and start to build your own email list. One of the easiest ways to grow your email list is by adding a popup to your site.
Research and Select the Right Affiliate Programs
Research about products that you have tried before and are related to your content, Then do some research to find affiliate programs about it.
Step #1: Search about the right affiliate network which will offer you to work on your content and know more about what kind of support the affiliate network provides.
Step #2: Ask and know more about the commission you are likely to make from the products, that will help you in promoting the profitable products.
Promote Perfect Affiliate Offers
Promote products that fill a need for your audience, ask your audience about what problems are they facing? What do they really need? How can your product help them?
Use social media advertising to promote your affiliate offers, use banner ads on your website or In-text content links within your blog content or youtube videos, and run email promotions on your list.
All of this will attract customers to your content who will start buying products from your link or coupon, and that really is a step to get commissions from the brands you're working with.
Create, Run, Optimize, and Scale
You're now an affiliate who has assets with an audience, as well as offers to promote to them. Thus, repeat the process and start making more money by optimizing perfectly running ads or pieces of content and scale them. Track your results and performance on every step you take that helps you gain more results.
Key takeaway: Working on these points is an accomplishment and a turning point. You might actually be "allowed" to call yourself an affiliate at this point. The key to success with affiliate marketing is to just get started and continue learning new tips and tricks to grow your affiliate business as you continue to build and grow your affiliate business.
Learn more about the benefits of being an affiliate with ArabyAds' Affiliate Program, and know more about the different programs we offer.